Part Number

30295
Description:
ISRAEL 10 AMPERE-250 VOLT PLUG ADAPTER (IS1-10P), SHUTTERED CONTACTS, 2 POLE 3 WIRE GROUNDING (2P+E), GREY. NOTE;
MATES AMERICAN NEMA 1-15P, NEMA 5-15P (MOLDED ON PLUGS), EU1-16P "SCHUKO", SW1-10P, IT1-10P PLUGS AND "EUROPLUG" (NON-GROUNDING) PLUGS TO ISRAEL (IS1-16R) POWER OUTLETS.
Scroll down to view additional related products.
Certifications:
CE
Data Sheet:

Dimensional Data Sheet

Price & Avail:
Contact Sales Office for Price and Delivery - Majority of all Products are in Stock - Quantity Discount Incentives Available
Scroll down to view
Related Products
Associated Products # 1
View / Print
Associated Products # 2
View / Print
Related Products:
30295
ISRAEL PLUG ADAPTER 10A-250V, 2 POLE 3 WIRE GROUNDING (2P+E), GREY.
30295-GB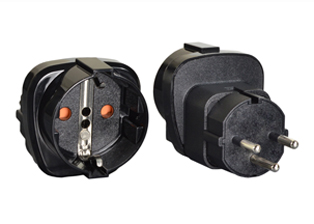 ISRAEL 10A-250V PLUG ADAPTER, SHUTTERED CONTACTS, IMPACT RESISTANT. BLACK.
30270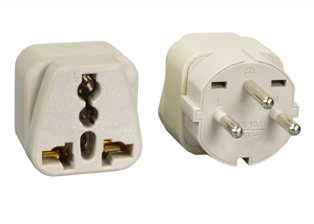 UNIVERSAL ISRAEL 10A-250V TYPE H PLUG ADAPTER. MATES EUROPEAN, BRITISH, UK, AUSTRALIA, NEMA, WORLDWIDE / INTERNATIONAL PLUGS WITH ISRAEL SI 32 (IS1-16R) OUTLETS. GRAY.
30300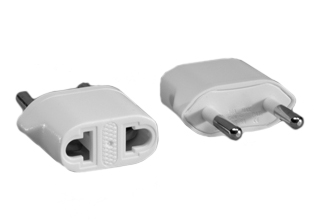 AMERICAN / EUROPEAN PLUG ADAPTER. MATES AMERICAN AND EUROPEAN 2 POLE PLUGS WITH EUROPEAN TYPE C, E, F, 250 VOLT POWER OUTLETS. WHITE.
Note: Adapter plug pins are 4.0mm diameter.

30301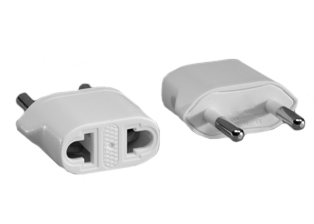 AMERICAN / EUROPEAN PLUG ADAPTER. MATES AMERICAN AND EUROPEAN 2 POLE PLUGS WITH EUROPEAN TYPE C, E, F, 250 VOLT POWER OUTLETS. WHITE. Note: Adapter plug pins are 4.8mm diameter.

77140-BLK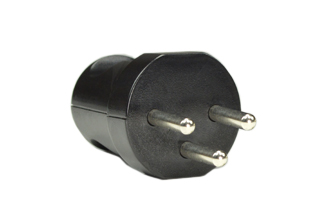 ISRAELI 16 AMPERE-250 VOLT TYPE H PLUG SI 32 (IS1-16P). BLACK.

77160-BLK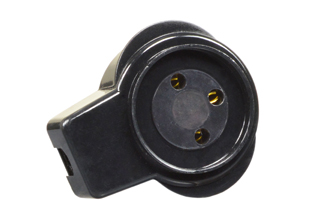 ISRAELI IN-LINE 16A-250V CONNECTOR SI 32 (IS1-16R), BLACK.

77140


ISRAELI 16 AMPERE-250 VOLT TYPE H PLUG SI 32 (IS1-16P). WHITE.

77160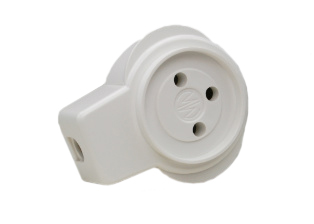 ISRAELI IN-LINE 16A-250V CONNECTOR SI 32 (IS1-16R). WHITE.

77130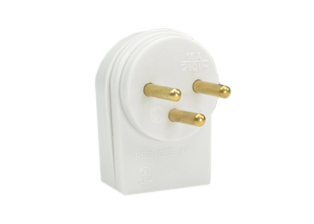 ISRAELI 16A-250V ANGLE PLUG, TYPE H, SI 32 (IS1-16P). WHITE.

70139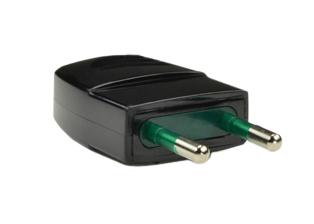 EUROPEAN, ITALIAN, S. AFRICA 10A-250V CEI 23-50 (S10), SANS 164-6 PLUG (4.0 mm DIA. PINS), 2 POLE-2 WIRE (2P), CORD RANGE (0.315-0.390). BLACK.

70139-NB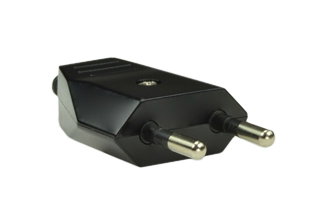 EUROPEAN, INTERNATIONAL, S. AFRICA 2.5A-250V "EUROPLUG", TYPE C, (4.0 mm DIA. PINS), CEE 7/16, CEI 23-16, SANS 164-5, 2 POLE-2 WIRE (2P), SCREW TERMINALS, MAX. CORD O.D. 0.300, (ACCEPTS ROUND OR FLAT CORD). BLACK.

70139-NW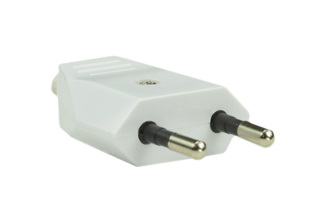 EUROPEAN, INTERNATIONAL, S. AFRICA 2.5A-250V "EUROPLUG", TYPE C, (4.0 mm DIA. PINS), CEE 7/16, CEI 23-16, SANS 164-5, 2 POLE-2 WIRE (2P), SCREW TERMINALS, MAX. CORD O.D. 0.300. WHITE.

70400-10MA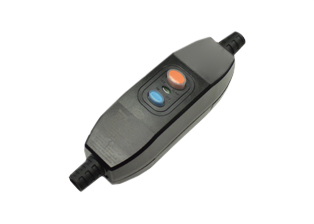 INTERNATIONAL IN-LINE GFCI (RCCB/RCD) PRCD-S 16A-230V, 50Hz, 10mA TRIP, IP55 WEATHERPROOF IN-LINE CONNECTOR, MANUAL RESET. BLACK.

70400-30MA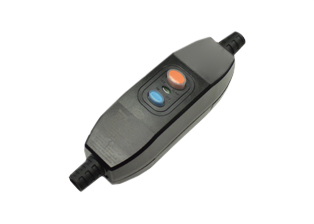 INTERNATIONAL IN-LINEGFCI (RCCB/RCD) PRCD-S 16A-230V, 50Hz, 30mA TRIP, IP55 WEATHERPROOF IN-LINE CONNECTOR, MANUAL RESET. BLACK.

77100x45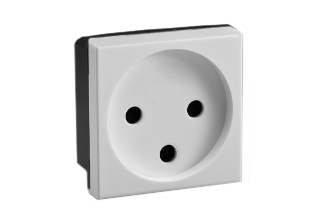 ISRAEL 16A-250V OUTLET TYPE H, SI 32 (IS1-16R), 45mmX45mm MODULAR SIZE. WHITE.

77110-S


ISRAEL 16A-250V SINGLE OUTLET SI 32 (IS1-16R), "SHUTTERED CONTACTS", FLUSH OR SURFACE MOUNT. WHITE.

77110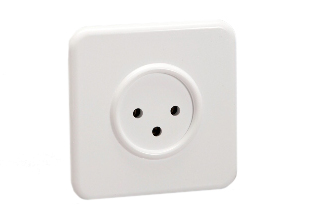 ISRAELI OUTLET, TYPE H, 16A-250V, (IS1-16R), PANEL OR BOX MOUNT, WHITE.

74900-WP


MULTI-CONFIGURATION "UNIVERSAL" 10A-250V WEATHERPROOF (IP44) PANEL OR WALL BOX MOUNT POWER OUTLET, SHUTTERED CONTACTS, 2 POLE-3 WIRE GROUNDING (2P+E). BLACK.
Note: Stainless steel wall plates # 97120-BZ and # 97120-DBZ mounts outlet onto standard American 2X4 and 4X4 wall boxes.
Note: Not for use with # 70125 wall box.

77225x45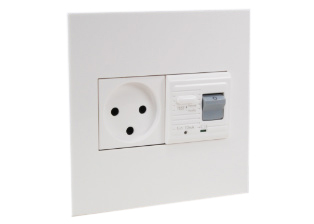 ISRAEL 16A-230V GFCI (RCBO/RCD) OUTLET, SI 32 (IS1-16R), 10 Ma. TRIP, 50/60 Hz.. WHITE.

77225


ISRAEL 16A-230V GFCI (RCBO/RCD) OUTLET, SI 32 (IS1-16R), 10 Ma. TRIP, 50/60 Hz.,IP55 RATED, HORIZONTAL SURFACE MOUNT. GRAY.

77225-30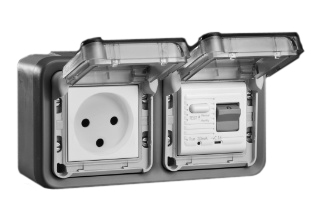 ISRAEL 16A-230V GFCI (RCBO/RCD) OUTLET, SI 32 (IS1-16R), 30 Ma. TRIP, 50/60 Hz., IP 55 RATED. GRAY.

56106


ISRAEL 16A-250V SI 32 (IS1-16R) 6 OUTLET PDU POWER STRIP, 1M, (3FT.-3IN.) CORD. WHITE.

56125


ISRAEL 16A-250V SI 32 (IS1-16R) 5 OUTLET PDU POWER STRIP, ILLUMINATED "ON/OFF" SWITCH, 1M, (3FT.-3IN.) CORD. WHITE.

60700


ISRAEL 16A-250V 6 OUTLET PDU POWER STRIP, "19 IN." VERTICAL RACK/SURFACE MOUNT, METAL ENCLOSURE, 2M (6FT.-6IN.) CORD. GRAY.

61700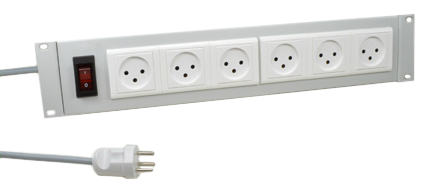 ISRAEL 16A-250V 6 OUTLET PDU POWER STRIP, "19 IN" HORIZONTAL RACK MOUNT, METAL ENCLOSURE, 2M (6FT.-6IN.) CORD. GRAY.

58206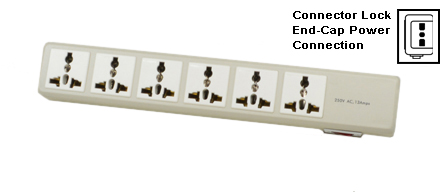 UNIVERSAL EUROPEAN, UK, BRITISH, ITALY, DENMARK, SWISS, AUSTRALIA, CHINA, JAPAN, BRAZIL, ARGENTINA, EUROPEAN, AMERICAN (NEMA 5-15R, 6-15R, 5-20R, 6-20R), S. AMERICAN, ASIA, THAILAND, ISRAEL MULTI-CONFIGURATION 6 OUTLET, 13A-250V PDU POWER STRIP, 50/60Hz, "LOCKING TYPE" POWER INLET, SURGE PROTECTION, CIRCUIT BREAKER. IVORY.
Note: Power Cords "Lock onto" outlet strip Inlet. View print for locking power cord details. Prevents accidental Disconnects.

58206-C14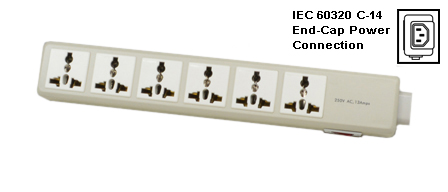 UNIVERSAL EUROPEAN, UK, BRITISH, ITALY, DENMARK, SWISS, AUSTRALIA, CHINA, JAPAN, BRAZIL, ARGENTINA, AMERICAN, S. AMERICAN, ASIA, THAILAND, ISRAEL, EUROPEAN, AMERICAN NEMA 5-15R, 5-20R, 6-15R, 6-20R MULTI-CONFIGURATION 6 OUTLET, 13A-250V PDU POWER STRIP, IEC 60320 C-14 POWER INLET, 50/60Hz, SURGE PROTECTION, CIRCUIT BREAKER. IVORY.
Note: C-14 Power inlet accepts all European, British, Australian, International, American, IEC 60320 power cords with IEC 60320 C-13 connectors.

52019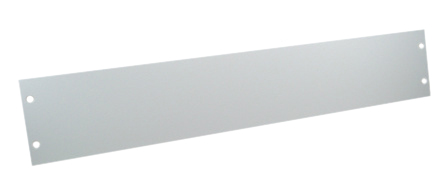 HORIZONTAL "19" INCH (2RU) RACK MOUNT POWER STRIP MOUNTING PLATE. GRAY.
Note: For use with power strip models less than 433 mm (17.0472 inches long).

88111



ISRAEL 10A-250V POWER CORD, SI 32 (IS1-16P) PLUG, IEC 60320 C-13 CONNECTOR, 2.5 METERS (8FT.-2IN.) (98") LONG. BLACK.
Length: 2.5 METERS (8FT.-2IN.)

88111-LK



LOCKING ISRAEL 10A-250V DETACHABLE POWER CORD SI 32 (IS1-16P) PLUG, IEC 60320 LOCKING C-13 CONNECTOR, H05VV-F 1.0mm2 CONDUCTORS, 70 C, 2 POLE-3 WIRE GROUNDING (2P+E), 2.5 METERS (8FT.-2IN.) (98") LONG. BLACK.
Length: 2.5 METERS (8FT.-2IN.)

88111-RA



ISRAEL 10A-250V POWER CORD SI 32 (IS1-16P) PLUG, IEC 60320 C-13 RIGHT ANGLE CONNECTOR, 2.5 METERS (8FT.-2IN.) (98") LONG. BLACK.
Length: 2.5 METERS (8FT.-2IN.)

88111-LA


ISRAEL 10A-250V POWER CORD SI 32 (IS1-16P) PLUG, IEC 60320 C-13 LEFT ANGLE CONNECTOR 2.5 METERS (8FT.-2IN.) (98") LONG. BLACK.
Length: 2.5 METERS (8FT.-2IN.)

80401



ISRAEL 16A-250V CORD SET, SI 32 (IS1-16P) ANGLE PLUG, IEC 60320 C-19 CONNECTOR, 2.5 METERS (8FT.-2IN.) (98") LONG. BLACK.
Length: 2.5 METERS (8FT.-2IN.)

80401-LK


LOCKING ISRAEL 16A-250V POWER CORD, SI 32 (IS1-16P) PLUG, IEC 60320 LOCKING C-19 CONNECTOR, 2.5 METERS (8FT.-2IN.) (98") LONG. BLACK.
Length: 2.5 METERS (8FT.-2IN.)

88950


ISRAEL 2.5 AMPERE-250V POWER CORD SI 32 (IS1-16P) TYPE H PLUG, IEC 60320 C-5 CONNECTOR, 1.8 METERS (6 FEET) (72") LONG. BLACK.
Length: 1.8 METERS (6 FEET)

81900


EUROPEAN INTERNATIONAL 2.5A-250V POWER CORD, CEE 7/16, CEI 23-16 TYPE C PLUG (EUROPLUG), 4.0mm DIA. PINS, IEC 60320 C-7 CONNECTOR, 1.8 METERS (6 FEET) (72") LONG. BLACK.
Length: 1.8 METERS (6 FEET)

88040



ISRAELI 10A-250V POWER SUPPLY CORD, IS1-16P PLUG, STRIPPED ENDS, 2.5 METERS (8FT.-2IN.) (98") LONG. BLACK.
Length: 2.5 METERS (8FT.-2IN.)

88070



ISRAEL 16A-250V POWER SUPPLY CORD, SI 32 (IS1-16P) PLUG, STRIPPED ENDS, 2.5 METERS (8FT.-2IN.) (98") LONG. BLACK.
Length: 2.5 METERS (8FT.-2IN.)

90400



EUROPEAN POWER CORD, 2.5A-250V, CEE 7/16 EUROPLUG, 1.8 METERS (6 FEET) (72") LONG. BLACK.
Length: 1.8 METERS (6 FEET)

90200



EUROPEAN POWER CORD, 2.5A-250V, CEE 7/16 EUROPLUG, 1.8 METERS (6 FEET) (72") LONG. BLACK.
Length: 1.8 METERS (6 FEET)

30235


UNIVERSAL IEC 60320 C-14 PLUG ADAPTER, 15A-125V, 10A-250V. MATES WORLDWIDE / INTERNATIONAL PLUGS WITH IEC 60320 C-13 OUTLETS AND POWER CORDS. GRAY.

30670



ADAPTER, IEC 60320 C-14 MALE PLUG, ISRAEL IS1-16R CONNECTOR, 0.3 METERS (1 FOOT) (12") LONG. BLACK.
Length: 0.3 METERS (1 FOOT)

31670



ADAPTER, 16A-250V, IEC 60320 C-20 PLUG & IS1-16R CONNECTOR. MATES ISRAEL IS1-16P PLUGS WITH IEC 60320 C-19 OUTLETS/CONNECTORS, 0.3 METERS (1 FOOT) (12") LONG. BLACK.
Length: 0.3 METERS (1 FOOT)