Accessories, Wall Plates, Boxes, Fuses
Select from the following product types for: 'Wall Boxes and Circuit Breaker Mounting Enclosures'
01614
M20 ADAPTER, NICKEL PLATED BRASS WITH O-RING. CONVERTS M20 THREAD TO 1/2 INCH NPT THREAD.
Note: Contact Sales Office or order on-line from Amazon 741945016144
Note: M20 threads with 1.5 pitch on External side and 1/2 Inch NPT threads on Internal side of adapter.
Note: NPT is abbreviation for National Pipe Taper. Commonly referred to as National Pipe Thread a United States standard for pipe fittings.
01620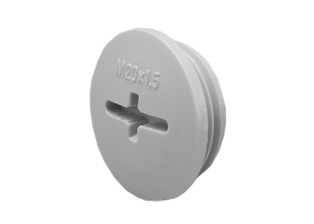 M20 HOLE PLUG WITH "O" RING, IP68 RATED, GREY COLOR, POLYSTYRENE, RAL 7035. TEMP. RANGE -25°C TO +60°C.